Pompeii, a trip to discover the buried history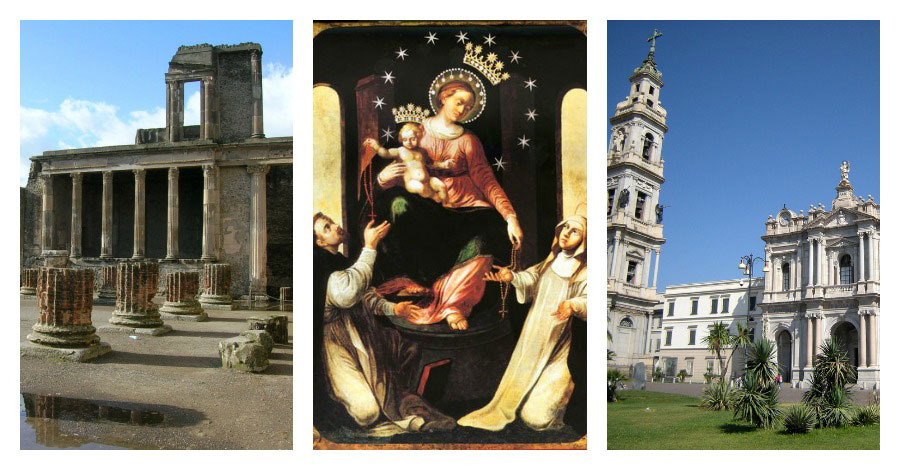 The excavations of Pompeii are an inestimable archeological treasure. Though the city is also a destination of religious tourism caused by the presence of Madonna di Pompei.
In 1997 UNESCO declared Pompeii a World Heritage Site. This result was reached thanks to extraordinary archeological remnants of Pompeii, Herculaneum and adjacent cities buried by the eruption of Mount Vesuvius in 79 AD. The excavated findings are the testimony of the social structure of once existed civilization that has been preserved almost intact for over two millennia.
The excavations of Pompeii
The excavations, launched by order of the king Charles III of Spain in the 18th century, provide an extraordinarily detailed insight into the life of a city during the period of Roman Empire. In fact, Pompeii is the best preserved city of that era. Most of the remnants are kept in the National Archeological Museum of Naples. The site of Pompeii, visited constantly by over two millions of tourists every year, has become recently the second most visited Italian museum. What attracts so many tourists are the remnants of "ville d'otium" found in Pompeii: particular residential constructions with adjacent terrains destined to agricultural activity. In addition, Pompeii includes other aristocratic villas and ecclesiastical edifices, like Tempio di Apollo, one of the most antique of the city. As established by the Roman law, tombs were supposed to be located outside the city walls and so today, not far away from the gates of the antique city, it is possible to visit old necropolis.
Madonna di Pompei
Madonna di Pompei, called also Beata Vergine del Rosario di Pompei, is a painting that influences particularly the tourism flows in the area. Every year it is visited by millions of pilgrims, especially on the 8th of May and on the first Sunday of October, in occasion of the pronunciation of the prayer called "Supplica alla Madonna di Pompei", written by Beato Bartolo Longo and transmitted by TV and radio all over the catholic world. Pilgrims, in order to obtain divine grace from the Virgin, bring various gifts, sacks filled with money included. The painting is located in the Sanctuary of Beata Vergine del Rosario di Pompei, but one may notice its miniature copy even in the tunnel of the changing rooms of the San Paolo Stadium in Naples, where Neapolitan people profess another cult, the one of the football team of the city.
Reaching Pompeii is easy. By car we recommend that you take the highway A1/E45 in direction of Salerno/Reggio Calabria and exit at "Pompei". By train, one may reach Pompeii departing from the main station (Stazione Centrale) in Naples.
Tags: Archeology, Art and Culture