The Gardens of Augustus on Capri island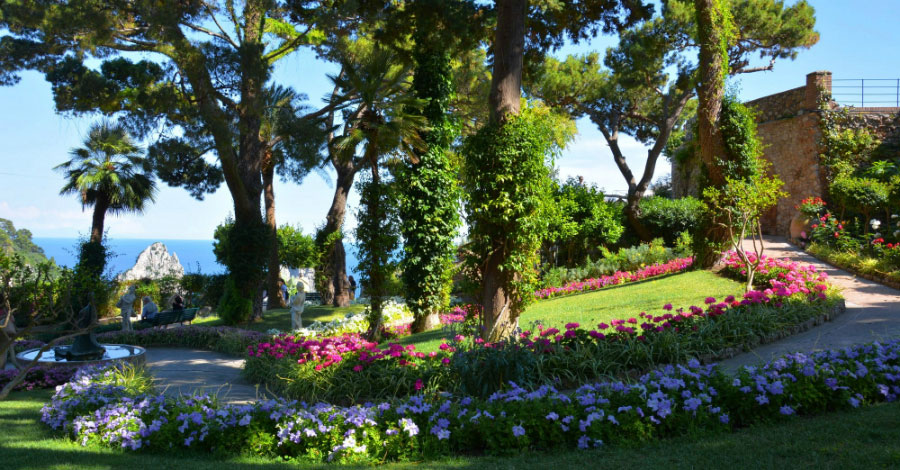 An obligatory destination that will leave you breathless. Located on Capri island, the Gardens of Augustus (i Giardini di Augusto) every year are visited by plenty of tourists who, after an elegant itinerary through the main streets of the island want to take a relaxing break in the famous scenery of Faraglioni rocks.
Being of the early 20th century provenance, the gardens have an extraordinary location: from one site they overlook the Faraglioni rocks, from the other the Marina Piccola bay and the Via Krupp with its hairpin turns. The park was established by the German industrialist Friedrich Alfred Krupp and initially took the name of "Krupp Gardens", renamed only after the World War I by the town authorities.
At the beginning the industrialist Krupp was supposed to build here his own villa. The project was not brought to completion: what remained, terraces that constitute the contemporary gardens, was embellished and conserved. After 1918, when the First World War finished, the terraces were renamed Giardini di Augusto, in order to pay tribute to the Roman emperor, Augustus.
Nowadays they consist of botanical gardens that are evidence of the rich flora of the island, with various ornamental plants and flowers. What is more, they offer an extraordinary panoramic to the island of Capri with the Solaro Mount, the bay of Marina Piccola, the via Krupp and famous Faraglioni.
In the gardens there is a statue of Vladimir Lenin, who visited Capri in 1908 hosted by the Russian writer Maxim Gorky. The monument, dated back to 1968, was executed by Italian sculptor Giacomo Manzu.
How to get there It's simple: from the Capri square walk along via Vittorio Emanuele, Via Federico Serena and proceed along via Matteotti.
Tags: Art and Culture, Architecture, Views