The Blue Grotto- fabulous cavern on Capri Island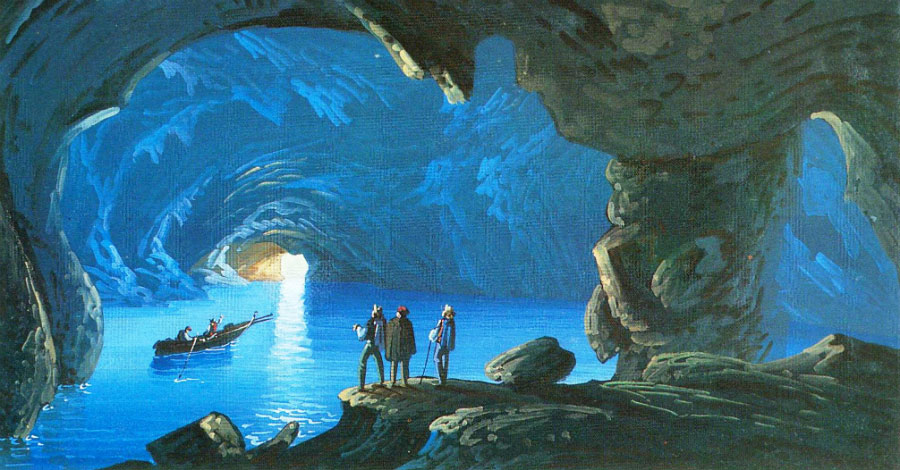 Floating is quite like flying. And though it's valid worldwide, in the waters of Grotta Azzurra it's certainly the most enchanting.
La Grotta Azzurra, or Blue Grotto, is a natural cavity approximately 60 meters long and 25 meters wide. The access to the cave is permitted by a hole in a cave wall that is two meters wide and only one meter high. It is barely large enough to a tiny rowboat with max. four passengers on board, who must lie in the bottom of it while entering the grotto.
Get on the boat, lie down and immerse yourselves in a cave flooded with emerald blue. Let yourselves delight by this spectacular place with its characteristic natural brilliant colors of unique beauty. The darkness will immediately turn into the dazzling blue. It feels not like floating, but rather like flying in the sky. And for this reason it's absolutely worth visiting at least once in a lifetime. La Grotta Azzurra is the most famous natural attraction on Capri, known and appreciated all over the world.
How to get there? It's easy: you can take a bus from Anacapri or a boat from Marina Grande port. The trip is possible from 9 AM to 5 PM, but it all depends on weather conditions. Since it's a protected area, the entrance fee is about 15 euro. The best moment for visiting the Blue Grotto is between 12 AM and 2 PM, when blue reflections that illuminate the cavern are the most splendid. We dissuade from visiting the grotto during cloudy days, whereas the reflections are not, for obvious reasons, as dazzling.
Many adventurers wait till evening, after 5.30 PM, to dive into the cave without a guide, which is strictly forbidden for safety reasons. You might risk hitting your head against a rock in case of waves, both natural ones and those provoked by a motorboat.
The history of the Blue Grotto. Archeological discoveries and remains of artwork found in the grotto lead to an assumption that in ancient Rome it was a monument consecrated to the nymphs, so called Nymphaeum. The statues discovered inside are today exposed at Casa Rossa Museum in Anacapri. For many centuries la Grotta Azzurra was abandoned and avoided by locals because it was said to be populated by legendary evil spirits and demons. In 1826 it was rediscovered by a German author August Kopisch and his friend, painter Ernst Fries, and from that moment it has become a favored tourist destination on the island, together with famous rocks Faraglioni and a small square it the city center.
Tags: Archeology, Art and Culture, Nature Parks and hiking, Views