The Phoenician Steps on Capri Island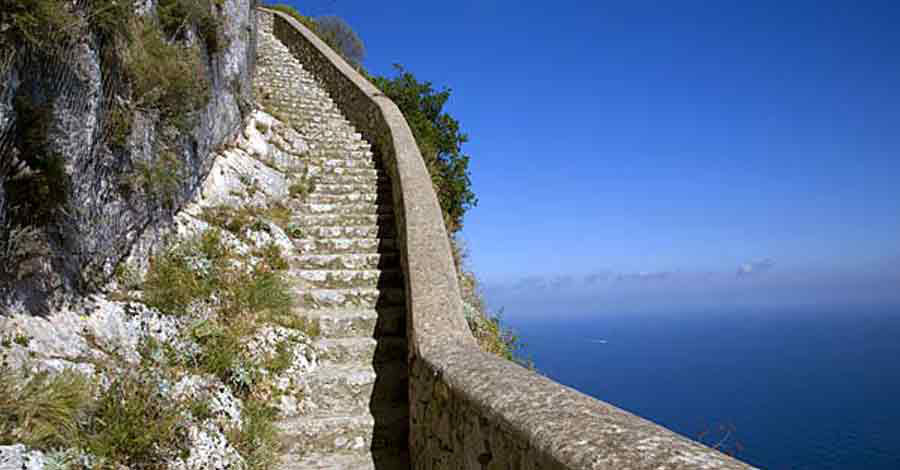 The Phoenician Steps (over 900 stairs) were built to connect two areas of the Capri island: the main harbour Marina Grande and Anacapri, which is situated at the top of the hill. For many centuries it was the only way people travelled from the harbour to the peak of Capri island.
Their construction, in spite of the name, is credited to ancient Greeks and dated back to 7th-6th century BC. It is a perfect itinerary for those who would like to enjoy a natural beauty of the island from an alternative prospective.
The Phoenician Steps were used to transport goods, food and water to parts of the island situated uphill, such as Anacapri. Just imagine the effort of ladies involved to walk up the steps with the water pitchers on their heads.

The stairway, renovated in 1998, is almost vertical and made of rough, high and uneven steps. Prepare your knees and courage, but if you suffer from dizziness, reconsider the trip!
For those who have already taken the stairs downhill, we suggest to tackle them in opposite direction, you will not regret it.
How to get there? The Phoenician Steps are located nearby the Marina Grande and Palazzo a Mare, on the bifurcation of via Torra, just five minutes from the port of Marina Grande. Find a brick ramp with colorful ceramic decorations on the right of the building and face the 921 ancient steps. You will notice immediately that the path, after an effortless beginning, tends to become more and more winding. Going uphill you will run across an old chapel dedicated to Sant'Antonio of Padua, the patron of Anacapri. And once you notice some crosses along the trail, know that the Capri bishops made them engrave on stony walls to protect people from collapsing rocks.
How long does it take? Going up will take you about one hour (without breaks). Although, we suggest you to stop sometimes to capture the enchanting landscapes that you can admire from this particular perspective.