Design and decorative arts at the Museum of Capodimonte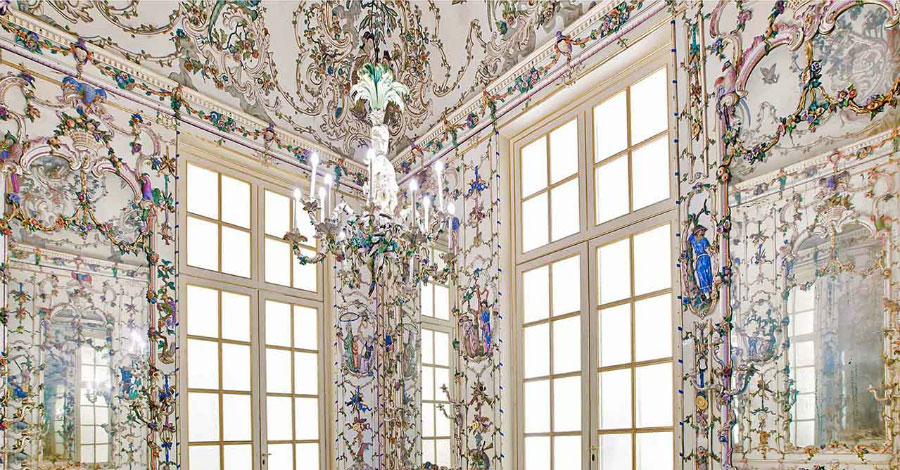 The magnificent interns of the palace Reggia di Capodimonte are adorned with precious stones and valuable materials.
The Royal Palace of Capodimonte houses instances of decorative arts and design of the past.
Reggia di Capodimonte houses the homonym National Museum composed with two main collections, one called Farnese, including some paintings by Raffaello, Tiziano, Breugel the Elder, El Greco, Guido Reni, and the other named Galleria Napoletana, consisting of paintings moved here from different Neapolitan churches and sites located nearby the city, by Simone Martini, Caravaggio, Ribera, Luca Giordano, Francesco Solimena and others. Moreover, the museum hosts a collection of contemporary art, which includes "Vesuvius" by Andy Warhol.
Decorative arts and design in the palace of Capodimonte
Some rooms of the Royal Palace are decorated by talented artisans that may be compared to contemporary designers. One of the interns of rococo style and particular beauty, called "Salottino di porcellana" of queen of Naples Maria Amalia di Sassonia, is entirely covered in white porcelain with ornaments typical for Chinoiserie themes (the 18th century). Decoration works took three years. The project embraced porcelain artisans, engravers, stucco workers and gilders, coordinated by two excellent decorators, who had already worked for the court of Spain: Mattia Gasparini and Gennaro di Fiore.
Curiosity: the decorations had been initially installed in other royal palace named Reggia di Portici, took apart and transferred to the palace of Capodimonte only with arrival of the new regnants of the Savoy family, just after the Italian unification.
Tags: Art and Culture, Museums