Gradoni di Santa Maria Apparente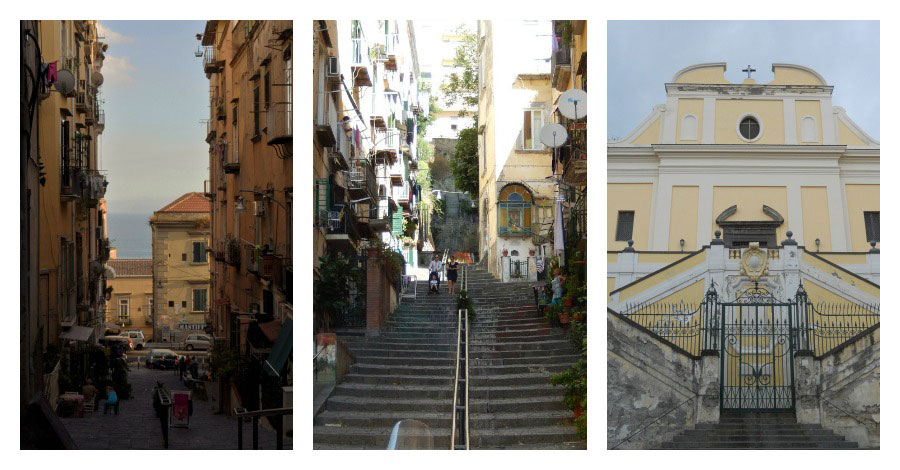 We recommend you a characteristic stroll by the steps of Santa Maria Apparente.
This brief itinerary permits to discover a new face of Naples, among panoramic shortcuts and everyday life of locals in the quarters far away from urban chaos.
A dense network of pedestrian tracks is hidden among antique edifices and the recent urban architecture of the city. This time we suggest you the steps of Santa Maria Apparente, stairs that offer some breathtaking views of Naples.
They are located nearby Corso Vittorio Emanuele, between funicular stations "Chiaia" and "Centrale". Along the stairs are situated elegant mansions, characteristic for the wealthy quarters of the seaside. Similarly to other stairs in Naples, also in this case there is a charming hamlet nearby, where a life of the past seems to be preserved somehow, and where the everyday chaos of the streets and the metropolitan lights don't penetrate through the wall of peace and quiet. During the stroll one will notice the church of Santa Maria Apparente, founded in 1581, built in order to host a saint image of the Holy Virgin. Despite the original name of the church, which origins are explained in a text engraved in its intern, Neapolitans invented and broadcasted an alternative version: Santa Maria a Parete, similar in pronunciation.
According to the other popular tradition, the name "apparente" ("appearing") derives from a mysterious light decried by fishermen once lost in the sea, that appeared exactly where the future church was supposed to be constructed.
Tags: Art and Culture, Architecture, Itineraries