La famacia degli Incurabili- Neapolitan Enlightenment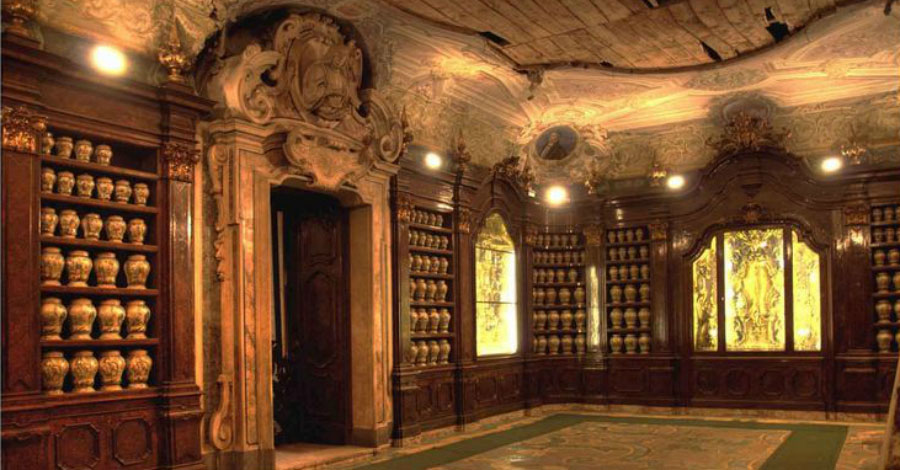 La Farmacia degli Incurabili (The Pharmacy for the Incurables) is the site unique of its kind that represents Neapolitan Enlightenment in the 18th century.
The pharmacy is dated back to the 18th century and was annexed to the homonym hospital complex in the historical centre of Naples. It has been located in an old apothecary dated back to the 16th century.
Nowadays, it represents an encounter between the scientific and humanistic culture in Naples and a remnant of the period of Enlightenment in the city.
Designed by the architect Bartolomeo Vecchioni, the pharmacy includes a hall and a small laboratory. On the shelves there are set different pharmaceutical vessels, such as albarellos, glass cruets and ceramic jars. The ceiling of the pharmacy is adorned with frescoes. The Historic Pharmacy for the Incurables consists in a part of the marvelous and well preserved hospital complex.
It is an instance of Baroque and Rococo styles, as well as of a modern pharmacy, being included in a bigger complex of halls, marble stairs, majolica pavements, bronze sculptures and refined furniture of walnut wood. Inside the niches there still are vessels and glass cruets with preserved pharmaceutical products inside. Drugs are mostly of mineral or animal origin, which proves an antique alchemist and esoteric tradition that had ruled before the modern science and medical revolution, to which this pharmacy contributed significantly in Naples.
In fact, the establishment of the pharmacy consists in a revolutionary moment and a passage from the enlightened medicine to the concept of modern hospital, considered a place of treatment and no more only an ordinary hospice. In the Pharmacy for the Incurables the use of chemical drugs have consisted in a huge achievement of the medicine, which until then had been at times powerless in front of some diseases. Thanks to those medicines doctors were finally able to fight dangerous and common diseases as syphilis and venereal infections. The Pharmacy represents a symbol of the passage from a period of prayers considered to be an antidote to diseases, to an appropriate usage of medicines finally making an effective treatment of Neapolitan patients possible.
Info
Complesso degli Incurabili
Via Maria Longo, 50, 80138 Napoli
phone: 0039 081 254 2111
metro station line 2 "Cavour"; line 1 "Museo".
Tags: Itineraries, Museums