Palazzo Trabucco: Neapolitan Baroque in the Pignasecca quarter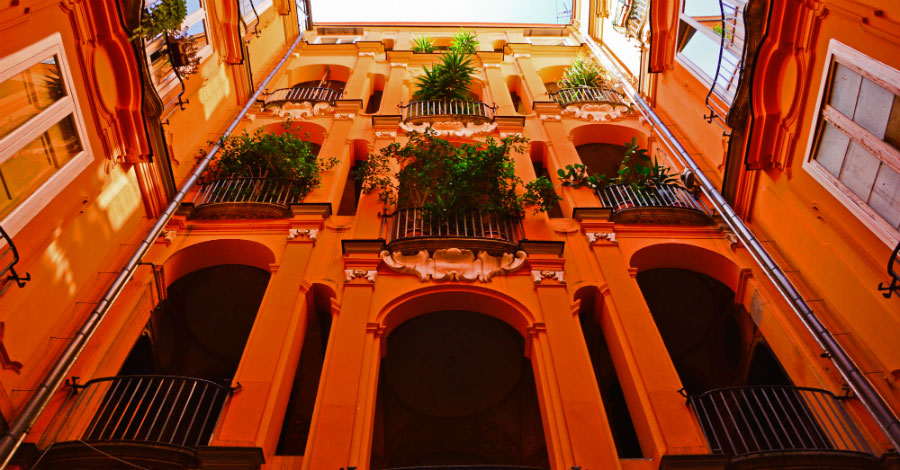 Palazzo Trabucco is an extraordinary example of Neapolitan Baroque.
Situated next to palazzo Mastelloni, there is another monumental edifice in Naples, palazzo Trabucco, an extraordinary example of urban architecture of the 18th century in Naples.
Palazzo Trabucco is a monumental edifice in Naples located on via San Liborio, a parallel to via Pignasecca. The mansion has five floors and is adorned with magnificent decorations dated to Neapolitan Baroque, that from a certain point of view announces Rococo style. Neapolitan Baroque is an architectonic and decorative style that reigned in Naples in the second half on the 17th century, thanks to works by renowned local architects. Typical features of Neapolitan Baroque are brilliant marble decorations and stucco adorning structures as columns, pilasters, and other elements of internal patios of edifices like palazzo Trabucco. This architectonic trend was then replaced by neoclassical style in the 18th century. Likewise most of the Neapolitan mansions, the structure of palazzo Trabucco is based on a scheme portal-vestibul-patio, the end of which latter one there is a spectacular open staircase. What catches one's attention is a sequence of three arches surmounting the ramp. Four pilasters of the stairs and its facade are adorned with floral and natural elements.
Things to do and see in the neighbourhood
The parallel street to via San Liborio is the antique via Pignasecca that conducts to Montesanto square, where the funicular and Cumana stations are located. There is also the famous pizzeria "Al 22", where one may take a break tasting local dishes on one of the most antique streets of the city. And if one is keen on shopping, it is an ideal location: on via Toledo there are a lot of shops with shoes and clothes, as well as other historically important, monumental mansions that nowadays are seats of banks and multinational corporations. Further attractions that we suggest to tourists are the metro station "Toledo" and, particular for its lively atmosphere, the district Quartieri Spagnoli that extends from via Toledo towards Corso Vittorio Emanuele, situated on the slopes of Vomero hill.
Tags: Architecture, Itineraries