Baroque and miracles in the church of San Gregorio Armeno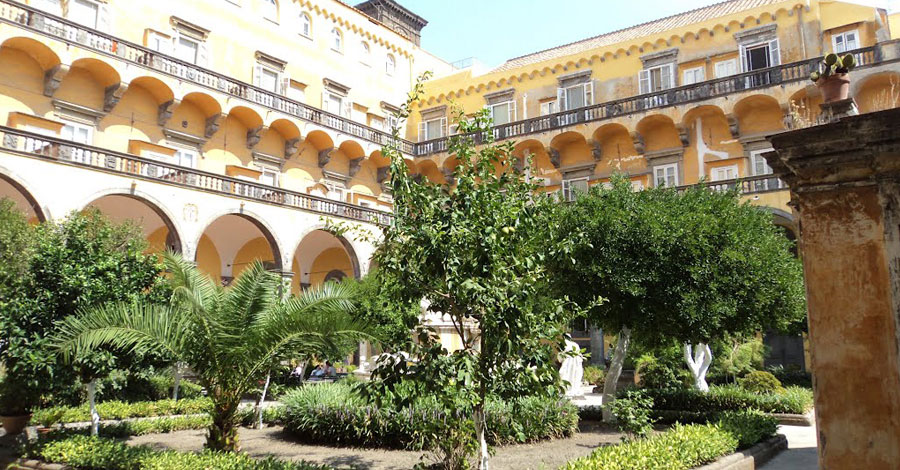 The church of San Gregorio Armeno is located on the homonym street, traditional for its crib workshops.
The church of San Gregorio Armeno (called also San Biagio Maggiore) is located on the famous street of cribs and is an instance of Baroque architecture in Naples. It is also known as a church of Santa Patrizia.
The shrine. The construction of the first temple began in 930 and the present architectonic style was designed and realized in the 17th century. As in case of all Neapolitan churches, it amuses you right from the entrance: the majestic dome enchants the visitors, thanks to the painting by Luca Giordano "La gloria di San Gregorio" above the coffer vault by a Flemish painter Teodoro d'Errico. 
The miracle of Santa Patrizia. The relics of the Saint are enclosed inside a precious golden and silver reliquary, placed in the fifth chapel on the left of the aisle. The cult of Santa Patrizia is quite antique: it was already practiced in the 12th century due to the miracle of transpiration of the manna through the walls of the grave, called the "holy tears". Afterwards, a liquefaction of blood was supposed to take place. Comparing with the miracle of San Gennaro, the one of Santa Patrizia doesn't occur regularly, except for the 25th of August every year, the day of the Saint. The miracles don't finish here. It is said that in the church of San Gregorio, or Santa Patrizia, other famous liquefactions have taken place, such as those of San Giovanni Battista (on 29th of August and 24th of June) and of San Pantaleone (the last one on the 27th of June 1950).
The cloister. Having the interns of the church visited we suggest that you take a look at the gardens of the cloister outside the shrine, located on via San Gregorio Armeno. Notice a tower constructed over the street on a former bridge that was supposed to connect the two buildings. Here one may access the monastery and the cloister. The archive located inside is particularly important. In the middle of the gardens there is a huge Baroque marble fountain surrounded by two 18th-century statues depicting Christ and Samaritan.
This way, a stroll on via San Gregorio Armeno assumes a double significant: from one side one is surrounded by an everyday chaos of crowded tourist street filled with traditional crib shops, and from another side by a religious tranquility of the cloister and enchanting beauty of the church.
Tags: Art and Culture, Architecture, Itineraries