From Vomero hill to Chiaia quarter in twenty minutes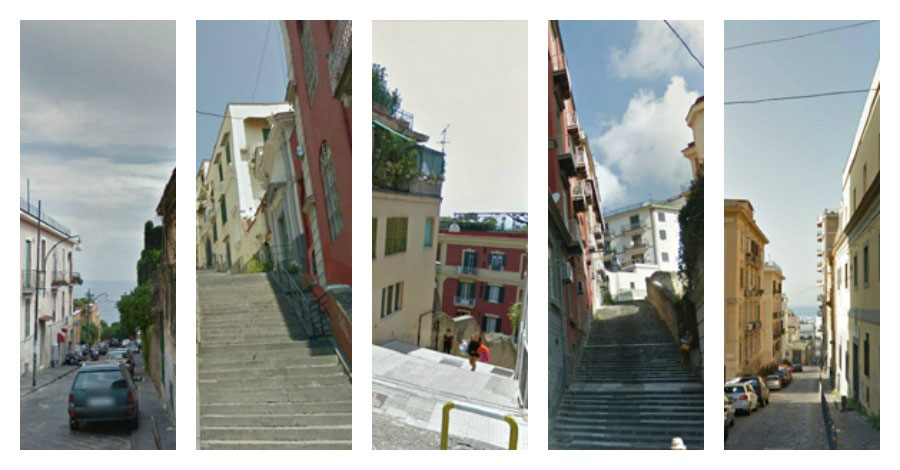 A stroll from the hill of Vomero to Riviera di Chiaia district, by stairs and alleys hidden from urban traffic.
It is not a joke, but a pure, simple truth: one moves faster and in a more convenient manner thanks to some antique routes that connect apparently distant areas of the city. Long passages uphill or downhill. That was supposed to be an urban idea of a port city of Naples, in expansion from the sea towards the hills, tending to urbanisation and development of infrastructure. The passage that we suggest you today conducts from Vomero to Riviera di Chiaia in 20 minutes, avoiding metropolitan, bus and car. Once these streets were passed by noble, wealthy families living in magnificent mansions of the quarter of Chiaia, Corso Vittorio Emanuele and on the hill of Vomero.
Let's take a walk and explore hidden shortcuts of our city. If you find yourself in the area of Vomero and need to reach urgently the zone of Riviera, Piedigrotta or Villa Comunale, the solution is within your reach. The stroll is really pleasant and beneficial, especially in the season. Calata San Francesco is an alley that crosses the panoramic street via Aniello Falcone, nearby small gardens; continuing, one arrives on via Tasso. The homonym stairs that starts here lead towards Corso Vittorio Emanuele II, passing over the panoramic hairpin turns of the street.
And then by the straight via dell'Arco Mirelli until you reached Riviera di Chiaia.
It takes only 20 minutes if you are in a hurry, a half an hour if you enjoy it calmly. No rush, no stress, no traffic. Only you and our beautiful city!
Tags: Art and Culture, Architecture, Itineraries