The "intelligent" stairs of Montesanto quarter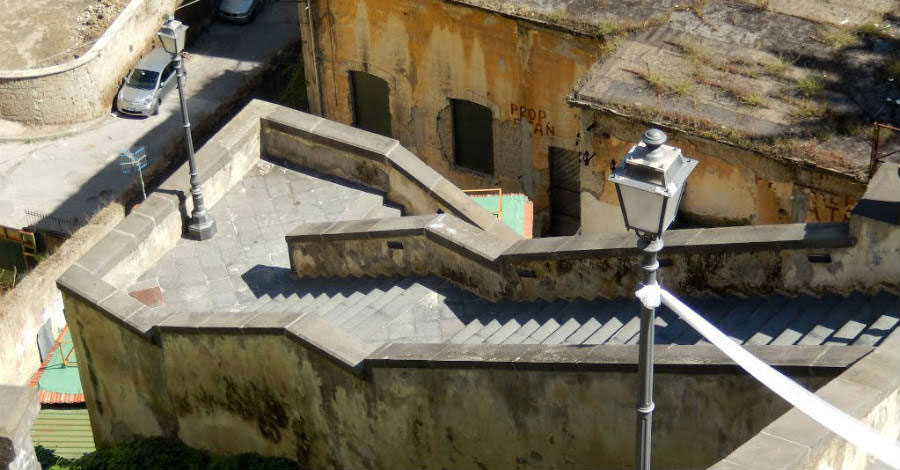 The stairs of Montesanto connect Corso Vittorio Emanuele and a popular and antique quarter of Montesanto.
Constructed along the railroad of the funicular of Montesanto, today the stairs consist in a new location of exchange and meeting, thanks to an urban renovation of the quarter. Naples, being a city situated on hills, is crossed by several shortcuts, stairs and tracks that connect areas that have become distant as a consequence of the urban development and in particular by new streets, bridges and buildings. One of them are the stairs of Montesanto, an enchanting stroll in the heart of Naples.
Thanks to the appointments organized in occasion of the Universal Forum of Cultures we spend a pleasant evening on the stairs of Montesanto that connect Corso Vittorio Emanuele, nearby Piazza Mazzini, with a small square of Olivella, where the funicular Montesanto station is situated. The stroll is really pleasant since one may feel as if on holiday, far away from the urban chaos. It feels really good being here: the streets are clean and pleasantly silent.
The location has been restored thanks to associations taking part in the project of urban requalification of some areas of the city. On the stairs of Montesanto is in fact located the seat of "Intelligent Quarter", a cultural association that promotes the creation of a new model of an "urban ecology".
Their goal is supposed to be accomplished organizing a proper citizen space suitable for meetings, debates, entertainment or film screening.
A curiosity: movies are screened on a wall of the building located in front of the association's seat and the audience seats on the steps: it is an instance of a creative, ecologic and functional use of the urban architecture.

How to get there:
The stairs are located nearby the Funicular Station "Montesanto".
Tags: Itineraries