The cemetery of Poggioreale, an open-air museum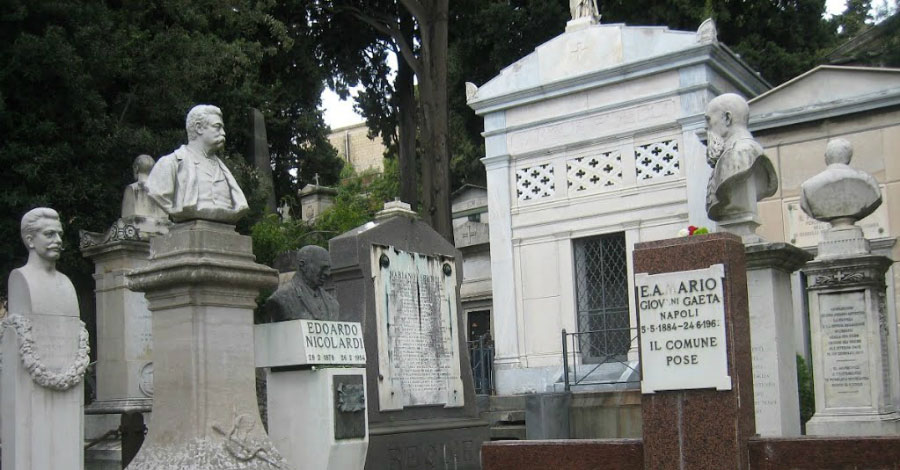 In the cemetery of Poggioreale one can admire architectonic styles of different periods.
It is rather an open-air, free museum than a classic cemetery. The cemetery of Poggioreale is similar to a quarter with some buildings among chapels and tombs, where it is possible to meet illustrious Neapolitans that are a part of the history of the city. Sculptures, some of them by famous artists of the 19th century, as well as epitaphs tell the story of those who are already gone. This "museum" is extraordinary since not conventional; in fact between lines of trees are situated mausoleums, private chapels, monuments and tombs in styles varying from neo-egyptian to gothic, neoclassical and liberty.
Those who want to visit a tomb of their keen have a long way walking, because the surface of the cemetery, situated on the homonym hill over the city, is of 50 hectares. The cemetery of Poggioreale is divided in two parts by via Santa Maria del Pianto. The main entrance is on via Nuova Poggioreale, while the other one, which permits the access to the second section of the cemetery, on via Santa Maria del Pianto. The most known and famous part is the one called Cimitero Monumentale.
It was designed in 1812 by Francesco Maresca, whose project was approved by Joachim Murat. As a consequence of Napoleonic Wars its completion was postponed, and so the inauguration took place in November of 1837. The monumental part of the cemetery has an important artistic value. It contains churches, chapels and above all, tombs of illustrious figures. The area is divided in 7 smaller parts and includes 157 monuments of various styles.
One of the most notable people buried in the cemetery of Naples is the prince Antonio de Curtis (his artistic name was Totò), whose tomb, distinguishable thanks to the high relief of his profile, continues to be a destination of pilgrimage of his fans from all around Italy, who leave him flowers and letters of admiration.
Other famous figures are: the poet Salvatore di Giacomo, the composer Saverio Mercadante, the actor Raffaele Viviani and the composer and pianist Sigismond Thalberg. Furthermore, the cemetery houses tombs of those whose names one would find in the popular Neapolitan legends rather than in encyclopedias, such as Don Rafé, the spirit protector of gold merchants. In fact, several generations of goldsmiths have visited the tomb of Don Rafé, in order to pray for the economic recovery.
The cemetery of Poggioreale consists in a concentrate of art, history and popular culture, which is the reason to consider it a real open-air museum.




Tags: Art and Culture, Architecture, Museums