Le rampe Brancaccio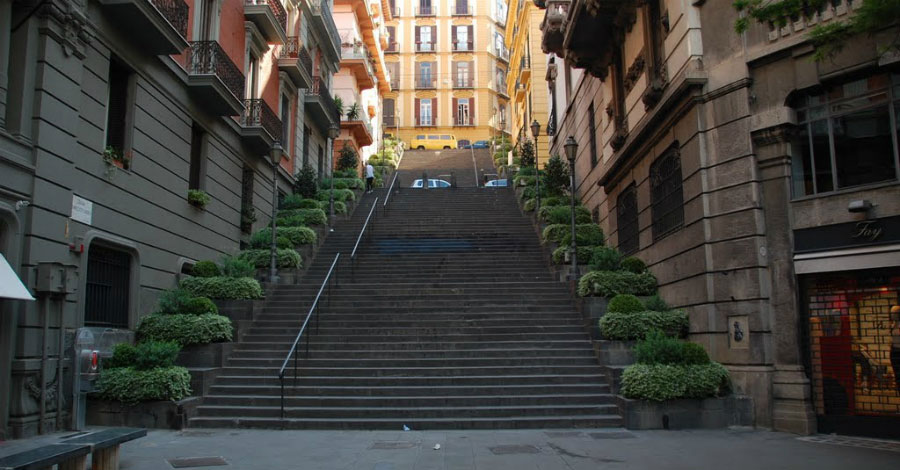 Le rampe Brancaccio (the Brancaccio ramp) is a pleasant itinerary for those who are keen on walking and enjoying hidden pedestrian paths in Naples.
From the city centre and popular quarters we move towards the elegant zone of Chiaia, between Quartieri Spagnoli district and the seaside, to discover another wonderful itinerary that we propose to those who like both going on foot or by car.
A new itinerary for tourists and strollers extends from Quartieri Spagnoli and the antique hamlet of Cavallerizza, today called Chiaia. The Brancaccio ramp starts in Chiara, nearby via dei Mille, and conducts to Quartieri Spagnoli and further, to Corso Vittorio Emanuele and to the city centre, to Piazza del Plebiscito. Widely used by Neapolitan expert motorcyclists and drivers, the route is a solution to a problem of traffic, however we recommend it only to those who are able to move in the tangle of alleys of Quartieri Spagnoli quarter.
At present the traffic is permitted only in one direction, however pedestrians can walk in both ways. And that's how the alley gains its value. Descending from Quartieri in fact, after passing the streets where the sun doesn't enter, one can reach the ramp in order to enjoy its marvelous views of Naples, Posillipo and Mergellina. By the stairs one arrives in the centre of Chiaia, on via dei Mille, where many fashionable boutiques, elegant residences in Liberty style and the most famous sites of the city (the promenade along the sea, Riviera di Chiaia and Castel dell'Ovo for instance) are located.
For those of you who don't know the zone well, the route will surely become a pleasant surprise.
Tags: Itineraries