Climbing and descending via Tarsia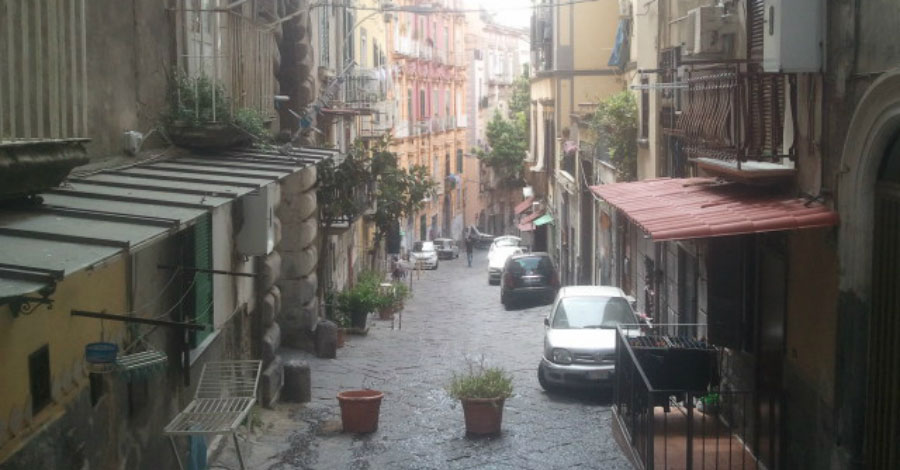 Via Tarsia is the antique pedestrian route in the historic heart of Naples that connects Montesanto district to the zone of Corso Vittorio Emanuele.
A new itinerary, this time better known and less hidden than other formerly presented, but equally convenient for those who are keen on walking and leaving the car in garage.
Ascents and descents. From this perspective Naples seems to be the Ferris wheel. In fact, wandering around through alleys and descents one realizes how wonderful some hidden shortcuts are. And then, after five minutes you reached your destination. Well, knowing those stairs and alleys is useful to abbreviate times between one shift and another. What is more, they consist in an aesthetic experience: the panoramas that one may enjoy from these alleys, going uphill and downhill, are the real added value to a walk in the city centre.
Today we walk through the zone called Tarsia, situated between piazza Mazzini square and Montesanto district. Reached piazza Mazzini, turn towards an alley that leads to a staircase, having the square behind your back. We are over a popular quarter of Montesanto. Along the descent two worthwhile sites are located: the Nitsch Museum and the Ventaglieri Park.
Proceeding, you will come upon several antique mansions, which colors shine in the spring and summer sunlight. Glancing on the left of right on small crossroads between the alleys, you may observe ulterior ascents of the quarter and views of Vomero hill, surmounted by the monastery Certosa di San Martino and Castel Sant'Elmo.
A short, but pleasant walk that will strengthen your legs and circulation, help the spirit and, if everyone did the same, also the lungs of the city and ours would appreciate.
Anyway, it consists in a perfect shortcut for those willing to reach historic centre of the city, avoiding more known and so congested routes.
The descent of Tarsia conducts you in fact to Montesanto quarter, nearby the Bracco Theater.
Tags: Art and Culture, Architecture, Itineraries