The museum of Herman Nitsch in Naples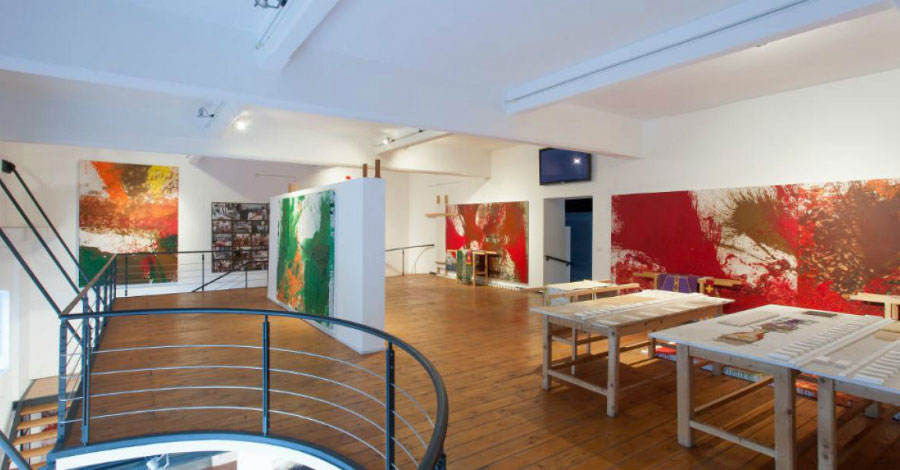 La Fondazione Morra - the Institute of Sciences of Visual Communication has as its major object of work and research activities the field of visual communication.
Arranged in an elegant 19th-century residence, the Nitsch Museum is located in the historic heart of the city, over a popular quarter of Montesanto, on the Pontecorvo street.
The museum is divided in four fundamental sections: the Collection, with installations by Nitsch and Giuseppe Morra since the 1970s until now; the Documentation, Research and Training Centre, which includes electronic translations of texts, images and events even since the early XX century; the Library and Media Library that contains books, catalogues, critical texts, articles, periodicals, monographs, interviews and documents of conferences and debates; the Department of Experimental Independent Cinema that houses video materials of the "Actions" since the 1970s until now and plays a role of the centre of study, research and diffusion of independent and experimental cinema; the Audio Library of Contemporary Music and the Center of Performative and Multimedia Arts.
Museo Nitsch
vico Lungo Pontecorvo 29/d.

Opening hours:
Monday-Friday: 10 AM - 7 PM
Saturday: 10 AM - 2 PM;
Closed on Sunday;
Closed: 3 August-1 September.
Tickets:
Full ticket € 10,00 Reduced-price: € 5,00; 25% discount fo Campania holders.
Free entrance for EU citizens under 18.
Tags: Art and Culture, Architecture, Views