Walking around the city center: Via Toledo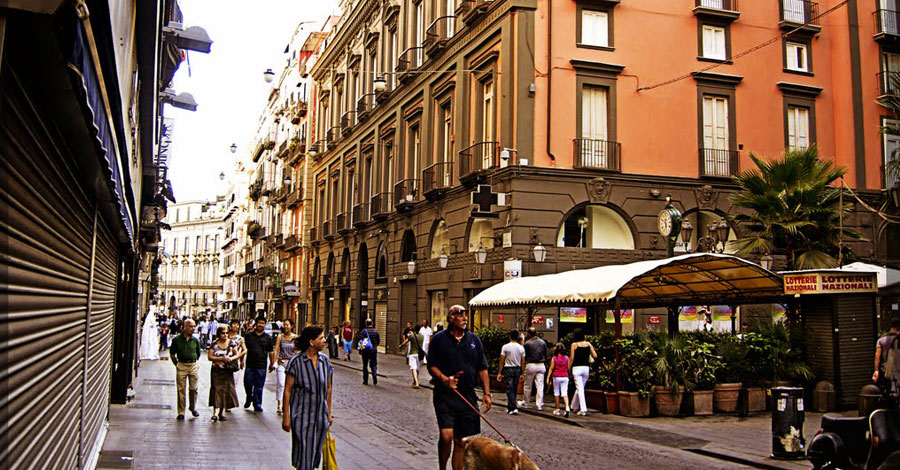 Via Toledo is one of the main streets in the city center and is 1,2 km long.
Construction of the street was ordered by a viceroy of Naples, Pedro Álvarez de Toledo, in 1536. Via Toledo became famous as a consequence of Grand Tour journeys in the 18th and 19th centuries and thanks to Neapolitan songs, in which it was mentioned frequently.
In the past via Toledo witnessed few popular protests and repressions, for instance one on 15th of May 1848, which the king Ferdinand II aimed at Neapolitan liberals defending a newly declared constitution. Nevertheless, between 1930s and 1950s, in consequence of a project of rehabilitation, the area of via Toledo was developed by constructing the Rione Carità (the contemporary Guanti Nuovi- via Cervantes zone). Unfortunately, the process was stimulated by illegal building speculation widespread in the postwar period (for more information, watch the movie "Le main sulla città" by Franco Rosi).
Since the 18th of October 1870 till 1980 the street was called "Via Roma" to honor the new capital of reunited reign of Italy. A deliberation was signed by a mayor Paolo Emilio Imbriani and widely criticized by the people. Soon all around the city one could hear unflattering songs about the mayor. The old nomenclature survived till 1990s, when a new mayor Bassolino, within a plan of revalorization of the quarter, restored the old name of the street and abolished the parking zone in the biggest square in Naples, Piazza del Plebiscito.
In 2012 the area was further developed, as a consequence of an inauguration of the new metropolitan station "Toledo", considered the most beautiful in Europe. Moreover, a part of the street that extends from via Armando Diaz to Piazza Trieste e Trento square was closed to traffic, so it became a suggestive promenade in the city centre.
Likewise in case of all principal sites of entertainment, also via Toledo houses a wide range of shops, suitable for those of you who love shopping. Department stores, small boutiques with clothes, shoes, sport equipment, electronic devices and entertainment –it's all here. What is more, there are a lot of exquisite restaurants and bars in the neighborhood. It's the best way to taste unmistakable flavors of excellent Neapolitan cuisine that is at your fingertips.
If it comes to main monuments, squares and palaces that you can visit in the area from Piazza Trieste e Trento up to Piazza Dante (on the opposite end of via Toledo), here goes a list of those that we suggest:
Palazzo Cirella;
Galleria Umberto I; Palazzo Berio;
Palazzo Barbaja;
Palazzo De Sinno;
Palazzo del Banco di Napoli;
Palazzo Zevallos;
Palazzo Monaco di Lapio;
Palazzo Lieto;
Palazzo Tocco di Montemiletto;
Palazzo della Banca Nazionale del Lavoro;
Chiesa di Santa Maria delle Grazie a Toledo;
Palazzo Buono; Palazzo Cavalcanti;
Palazzo del Nunzio Apostolico;
Palazzo Trabucco;
Palazzo Mastelloni;
Palazzo dell'INA;
Palazzo Della Porta;
Chiesa di San Nicola alla Carità;
Palazzo del Conservatorio dello Spirito Santo;
Palazzo Doria d'Angri;
Basilica dello Spirito Santo;
Palazzo De Rosa.
Tags: Art and Culture, Architecture, Shopping