Maiolica Cloister of Santa Chiara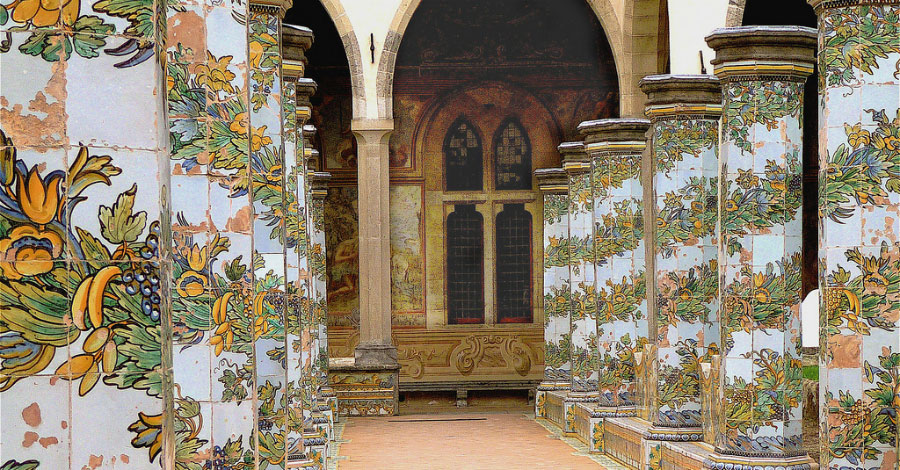 The monastic complex of Santa Chiara is a very charming site, especially for curious tourists interested in arts. What makes it even more amazing is the internal cloister decorated with beautiful majolica.
The Majolica Cloister of Santa Chiara monastery in Naples nowadays has a completely different design than at times when it was built. Over centuries it has undergone many modifications and consequently today it presents an aspect unlike the original one.
The cloister was edified in the 13th century and consists of 66 lancet arches (in Gothic style) supported by 66 piers in volcanic stone called piperno, which is highly common in former Neapolitan construction. The structure itself has remained intact, yet the changes have concerned a garden that has been entirely modified.
The architect of the most radical transformation was D.A. Vaccaro, who planned and completed, between 1742 and 1769, two main intersecting alleys that divide the garden in four smaller parts, lined by 64 majolica columns decorated with animal and floral patterns. The majolica ornaments are attributed to craftsmen Donato and Giuseppe Massa, who worked at the cloister in order to harmonize the architecture with the surrounding reality, nature and colors. Moreover, also benches between the columns are decorated- depicted scenes represent everyday life of people from that period. On the cloisters walls there are 17th-century frescos depicting scenes from Old Testament.
Nowadays the Cloister hosts many cultural events, concerts, shows as well as art and theatre reviews. It is one of the favored sites among tourist. In front of its exceptional beauty one just remains there without words to admire virtuosity and technique of Neapolitan masters of handcraft.
Tags: Art and Culture, Architecture