The Sansevero Chapel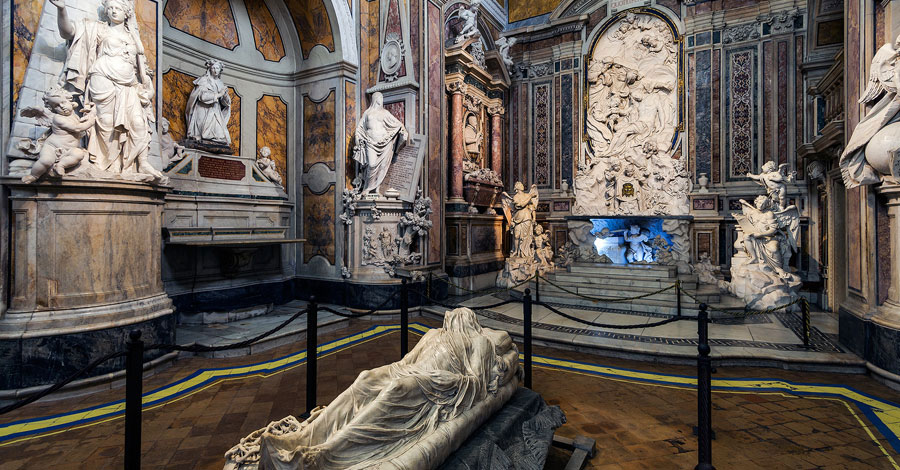 The eighteenth-century Sansevero Chapel (Cappella Sansevero) is one of the main museum complexes in Naples.
The chapel, representing one of the most popular artistic and cultural areas among tourists and visitors in the city, is situated just nearby Piazza San Domenico Maggiore square, in the historic heart of Naples.
It is located inside a nowadays profane church and close to an old residence of the prince family of Sansevero, which members used to enter the chapel by a special kind of bridge that was joining the two buildings.
The chapel houses masterpieces such as the Veiled Christ (completed in 1753 by Giuseppe Sanmartino), famous worldwide for the soft shroud that mercifully covers the body of Christ and seems to be made of silk, whereas it is entirely hewn in marble from a single block of stone. Other sculptures of high artistic and tecnic value are la Pudicizia (Modesty) and il Disinganno (Disillusion), respectively by Antonio Corradini and Francesco Queirolo.
The most important member of the nobel family was Raimondo di Sangro, Prince of Sansevero, the ingenious architect and author of the artistic design of the chapel. In its underground chamber are located famous and bizarre "Anatomical Machines" ("macchine anatomiche") -two human skeletons with the artery and vein systems almost completely intact.
The mysterious and timeless atmosphere of Sansevero Chapel blends together Masonic symbols and baroque creativity, reflecting the multi-faceted personality of Raimondo di Sangro, its creative and charismatic architect. He was a member of Masonic lodges, keen on obscure alchemical experiments. Nevertheless, according to some unreliable sources, his anatomical machines are somewhere in between alchemy and official science.
Tags: Art and Culture, Architecture, Museums