A trip to the excavations of Herculaneum. And not only!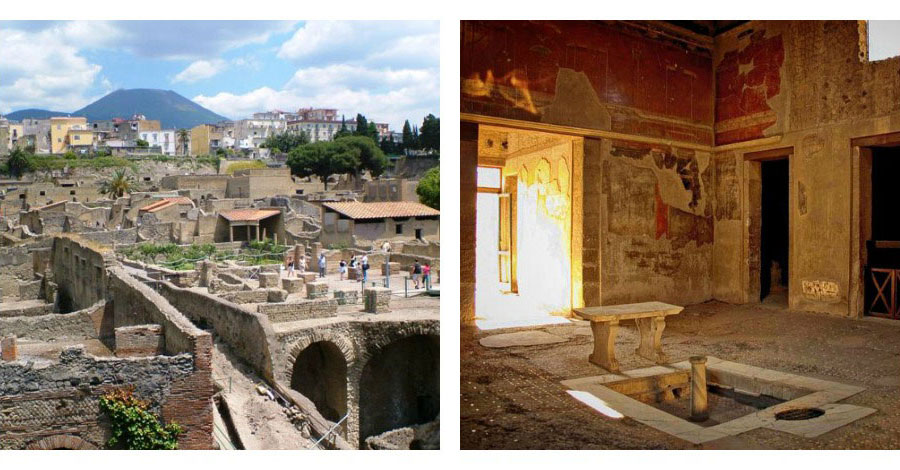 Herculaneum is famous worldwide for its archeological excavations of the Roman city destroyed by the eruption of Mount Vesuvius in 79 AD.
The excavations of Herculaneum, together with those of Pompeii and Oplontis, consist in the World Heritage Site of UNESCO annually visited by millions of tourists. According to a legend the city was founded by mythological hero Hercules.
The excavations of Herculaneum
 Before the Roman Empire, the city was populated by Samnites, then by Greeks and Etruscans, until Romans, whose preponderant presence in the area is proved by an exceptional state of preservation of the remnants discovered during the excavations. Likewise Pompeii and Oplontis, herculaneum was completely covered with volcanic material during the eruption of Mount Vesuvius in 79 AD After this date the city disappeared, buried under twenty three meters of accumulated material. It was uncovered between the 18th and the 19th centuries, as a consequence of the excavations carried out by Bourbons and continued in the 20th century. Why they are absolutely worth seeing? The excavations of Herculaneum offer a clear reconstruction of the city and of its social life. Beside Pompeii it is a site that consists in the most complete description of life in the Roman Empire. The remnants indicate clearly the streets, the urbanistic structure, the typology and distribution of the buildings (as for instance those that overlooked the sea), the thermal baths, the gymnasium and the monumental shrine. Therefore, the perfect preservation of several elements allowed to trace with sufficient accuracy a condition of housing, and so of the every-day life and its quality.
Resina, the Miglio d'Oro and the crater
Apart from excavations. Along the Corso Resina route that starts at archeological excavations and reaches the city of Torre del Greco are located splendid villas, dated back to the 18th century: the route is called "Miglio d'Oro"- the Gold Mile. Moreover, from Herculaneum it is also possible to reach the trail that leads to the Gran Cono crater of Mount Vesuvius. In addition, to those who love vintage fashion and second-hand shopping, we recommend the market of Resina (the former name of Herculaneum), where one may find the vintage outfits of all kinds.
How to get to Herculaneum
By train
Line: Napoli Centrale - Paestum - Portici - Ercolano
Circumvesuviana Linea Napoli - Sorrento - Ercolano Scavi
Linea: Napoli - Poggiomarino - Ercolano Scavi
Linea: Napoli - Poggiomarino - Portici - Via Libertà
Tags: Archeology, Art and Culture, Shopping, Museums