A bath under the Tower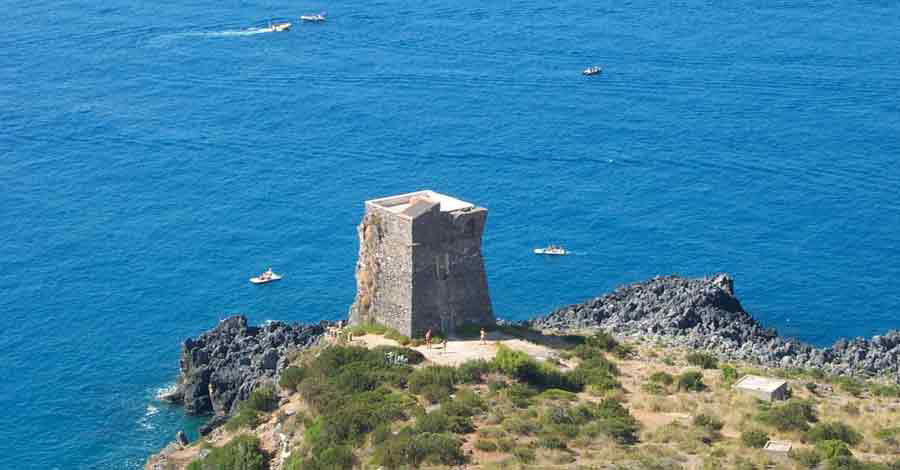 The Saracen towers ("le torri saracene") are located along the coast of Campania region and in the south of Italy. They have existed since the ancient times, when Mediterranean was threatened by raids of Saracen pirates and corsairs that raged the coasts in search of fortune.
Nowadays, the Saracen towers consist in an important landmark for bathers willing to enjoy an extraordinary beauty of our sea and shore. Formerly, members of the Anjou family were the first ones that thought of using the towers located on promontories in order to create a permanent and efficient system of defence and reporting a danger with fire and smoke from above them.
In order to understand the importance of the towers it is sufficient to remind that in 1480, when they had not yet existed, no warning had reached the eyes nor ears of the Otranto citizens: in fact, the city became a victim of one of the most pitiless and violent attacks of Saracens in history. From the Gulf of Naples until Sapri, the last town in the region, the towers are indeed countless and sometimes correspond to important fortresses, castles or other monuments, such as Castello Aragonese in Bacoli, Castello di Gaeta or the one of Ischia, including even Castel dell'Ovo.
They're surely not the most famous Saracen towers ever built, though they have the same functions. In order to see those in Campania region, one needs to go towards punta Campanella, Massa Lubrense, Vietri, Velia until southern Cilento: Camerota, Palinuro, Costa della Masseta in the Policastro Gulf and the inlets before Maratea. But we went slightly too far, we are already in the Basilicata region, in the province of Potenza.
Have a nice trip!
Tags: Sea and beaches, Itineraries