The Fish Market of Pozzuoli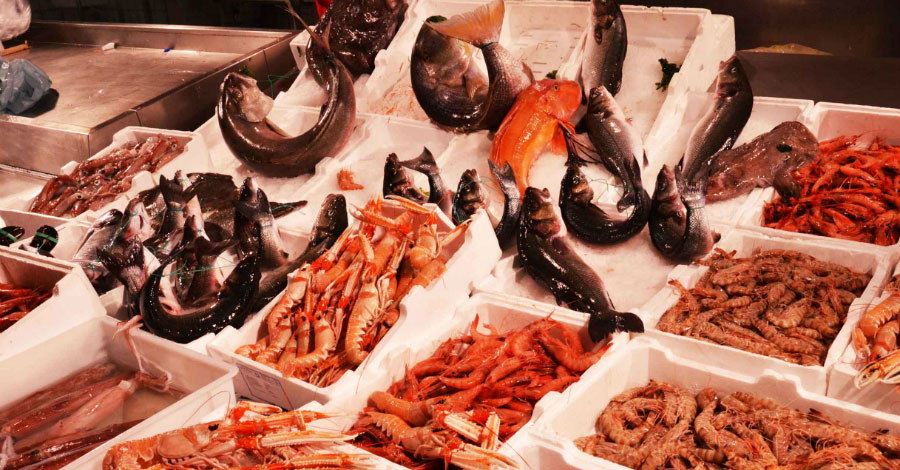 The fish market in the city of Pozzuoli is famous among restaurateurs and cuisine experts hunting the best products of Neapolitan sea.
The fish market of Pozzuoli, simply known as "fish market", is a real institution both for chefs and Neapolitan housewifes, open from early-morning hours.
Initially situated in the port of Pozzuoli, nowadays the fish market is located on via Fasano, nearby the Eav bus station. It consists in the shrine for cuisine professionals, as well as for ordinary visitors, and is one of those places where one can fully breathe the Neapolitan tradition.
The charm of a matutine hustle and bustle cancels sometimes annoying smells of fish, which hereabout is of the first-rate quality. It's not by chance that the market is literary taken by storm during holidays like Christmas or other periods of the year when the tradition suggests fish dishes.
Settled in small stands, nowadays the market was moved on via Fasano street, nearby the Eav bus station. It happened probably as a consequence of the phenomenon of bradyseism that had provoked an excessive emersion of the land, "withdrawing" the sea and constraining the ships to find new docks. The new market may have lost a part of its former magic caused by the previous location in the port, but the quality of its products remains constantly the same, being a meaningful feature of the city of Pozzuoli and its past.
Nevertheless, locals have always considered the former fish market the real one and its present location is thought to be only a remnant of it. As we mentioned, the fish market consisted in a tourist attraction for visitors of the city, who could spend the matutine hours wandering around in search of the best products, drinking coffee and talking with fishermen. The Eav station is surely not an ideal scenery for as characteristic and traditional place. Nevertheless, the fish market of Pozzuoli still remains one of the main locations for fish shopping in the whole area of Campania.
And of course, as in case of each market, who arrives first finds the best products!
Tags: Shopping