I Capelli di Venere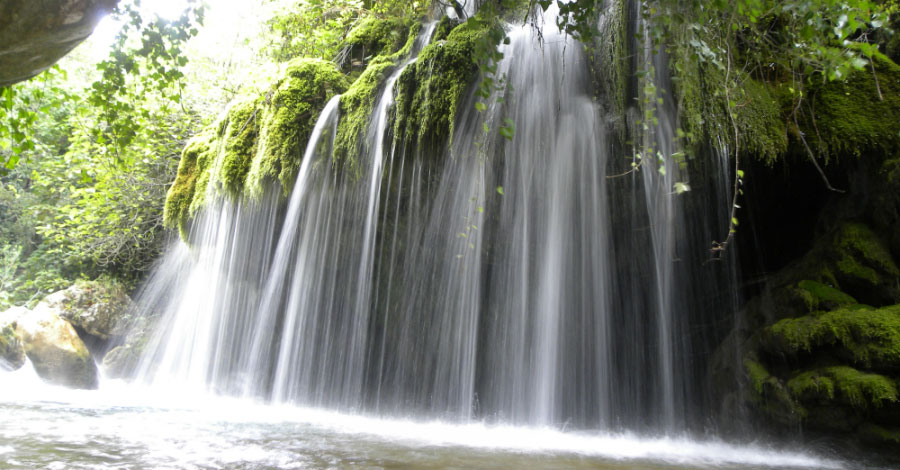 The southern part of a province of Salerno, includes countless and fabulous tourist attractions, such as the uncontaminated coasts of Cilento, the archeological sites of Paestum and Velia and the monastery Certosa di Padula.
We recommend you an itinerary in the mountains of the National Park of Cilento and Vallo di Diano, a trail that conducts to the forest of Casaletto Spartano with the famous cascade called "i Capelli di Venere" ("the Hair of Venus").
A waterfall. Capelli di Venere is a natural waterfall nearby the borgo di Casaletto, in the protected area named, not without a reason, "Capello". It consists of a fantastic hiking itinerary, surrounded by unpolluted nature. The trail is provided with picnic and barbecue area with benches and wooden tables, where one can take a break and enjoy the relaxing atmosphere.
The waterfalls are located close to a small charming stone bridge, from which one may admire the enchanting view for the "Hair of Venus": water spurts falling down to the Rio di Casaletto river (called also Rio Bussentino because it's a tributary of the Bussento river that flows into the Golfo di Policastro gulf). A mythological and exotic name of the waterfall could be explained by the singular subtleness of its spurts that remind of a divine hair, though in fact the name derives from the plant called "capelvenere" that grows above the cascade.
There are also an old mill and two trails with enchanting panorama of Vallo di Diano and Golfo di Policastro located in the area.
How to get there:
From Naples:
Take the highway Salerno- Reggio Calabria and exit at Buonabitacolo- Padula;
proceed by the road 517 until Caselle in Pittari;
proceed by the road 16 until Casaletto Spartano.
From the South:
Take the highway Salerno- Reggio Calabria and exit at Lagonegro;
proceed by the road 349 until Casaletto.
Tags: Nature Parks and hiking, Views