Casina Vanvitelliana on the Fusaro Lake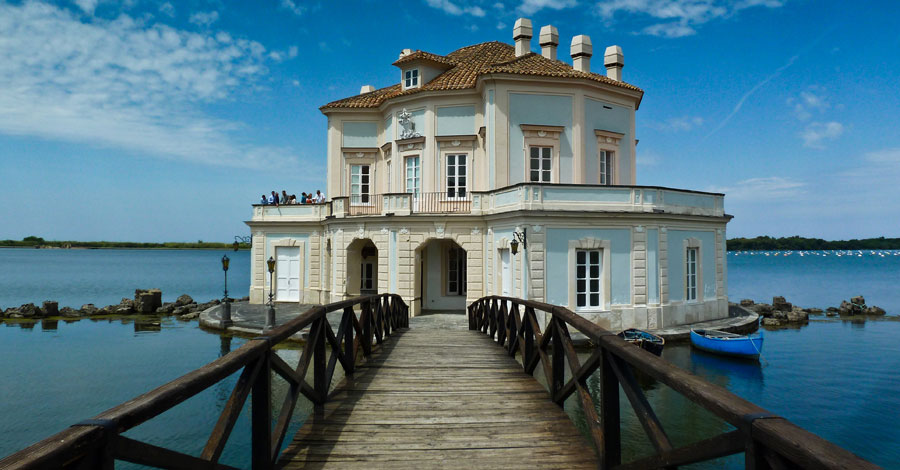 Casina Vanvitelliana, a residence designed by an Italian architect of Dutch origin Luigi Vanvitelli, is an elegant example of the 18th-century architecture situated on a small island in the middle of the Fusaro lake. A charming house was designed by Luigi Vanvitelli by commission of the royal family of Bourbon.
The area of the Fusaro Lake was used by the Royal Family as a hunting and fishing reserve since the second half of the 18th century, when the residence was arranged to host noble guests, such as Francesco II d'Asburgo-Lorena, Wolfgang Amadeus Mozart, Gioachino Rossini and, in recent times, the second president of the Italian Republic, Luigi Einaudi.
Casina Vanvitelliana, an instance of the refine 18th-century style, for some architectonic aspects reminds of the residence called Palazzina di caccia of Stupinigi, designed approximately in the same period by Filippo Juvarra, other great artist contemporary with Vanvitelli. Recently, after renovation and maintenance works, the residence regained all its original beauty. It has become a popular tourist destination, being included in various itineraries and guided tours.
Plenty of Neapolitans visit the site since they are keen to leave the city chaos and relax the mind and spirit, amongst the nature, history and rich culture of the territory waiting to be discovered.
INFO: Casina Vanvitelliana
Piazza Gioacchino Rossini, 2, 80070 Bacoli NA
info@centroitticocampano.it
Phone: 0039 081 8687080
Tags: Architecture