The National Railway Museum of Pietrarsa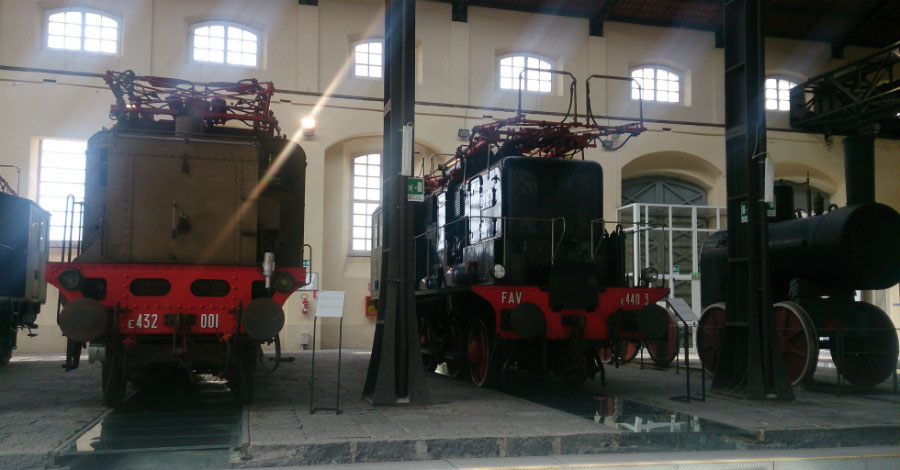 The National Railway Museum of Pietrarsa houses the old establishments of Pietrarsa, the first Italian factory of locomotives, rails and railway transport materials.
Its original name was Reale Opificio Borbonico di Pietrarsa, changed in Museo Nazionale Ferroviario di Pietrarsa on the 7 of October 1989, when the complex had already been abandoned for 14 years.
Right from the entrance one immerge oneself in the history of Naples: in the museum's gardens visitors are "welcomed" by the monument of Ferdinand II, which indicates a place where the first railway establishments of the reign of Two Sicilies (and of Italy) were located.
By the king's commission, the old Bourbon establishments were completed in 1840 in the area known as "Pietra Bianca" ("White Stone"), and then renamed "Pietrarsa" after an eruption of Vesuvio that brought the lava until the coast between towns of San Giovanni a Teduccio and Portici, where the present museum is situated.
Today the Railway Museum of Pietrarsa testifies a hard work of the employees of the old Pietrarsa establishments, reconstructing and analyzing the historic, cultural and technical-technological itinerary that may be also conceived from the perspective of alteration of the relationship between the man, the machine and the society.
The Railway Museum of Pietrarsa is accessible to public and organizes guided tours and didactic events for schools and tourists. A place worth a visit that permits us to discover the traces of the Neapolitan history through an unusual perspective that surely will satisfy interests of visitors and fans of our city.
INFO
Museo Nazionale Ferroviario di Pietrarsa Traversa Pietrarsa - 80146 - Napoli
Opening hours:
Friday: 9 AM- 4:30 PM
Weekend: 9 AM- 6 PM
Monday- Thursday: Big groups only.
Tickets:
Full ticket 5 €; Reduced ticket 3,50 €;
Guided tour:
Full ticket 7 €; Reduced ticket 5 €;
It is possible to buy the tickets online.
http://www.museopietrarsa.it/mpie/Informazioni-e-Contatti
Tags: Art and Culture, Architecture