Villa Vannucchi: a pearl on the Miglio d'Oro coast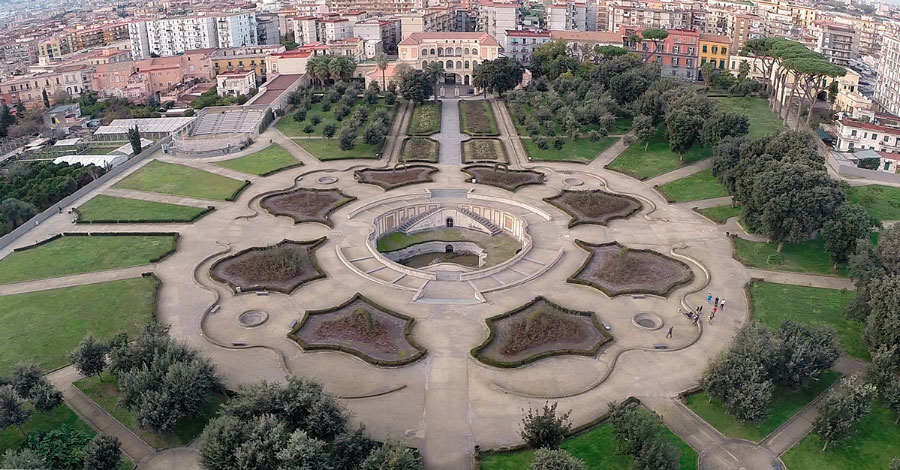 From the town of Barra until Torre del Greco extends a fascinating part of the coastline called Miglio d'Oro (Gold Mile), characteristic for its antique and elegant noble villas along the sea, under Vesuvius. We present one of them: Villa Vannucchi, situated in the town of San Giorgio a Cremano.
Villa Vannucchi
is one of many monumental villas of
Miglio d'Oro
. located precisely in the town of San Giorgio a Cremano, in the Naples province.
Ordered by Giacomo d'Acquino di Caramanico, the noble related to the royal Bourbon family, the structure had been sold to foreigners in the middle of the 19th century and then passed, in 1912, to the family of Vannucchi.
The villa was partially destroyed during the earthquake in 1980 and a part of its gardens become an illegal private farm. Afterwards, the estate was passed under the communal custody of the town of San Gregorio a Cremano, that permitted its renovation, completed in 2006. Works included also the park and the gardens that regained their original visual aspect thanks to a 18th-century map.
Nowadays the Villa Vannucchi hosts cultural events and it is visited by varied public. It consists of a new site of relax, entertainment and revaluation of the territory at the same time.
Some cinema fans surely have recognized it in opening scenes of the movie "Ricominciamo da tre", in which Lello Arena calles loudly Massimo Troisi.
The villa contains the chapel of Immaculate, the sacristy, the music room, and the former stable, nowadays transformed into a theater.
The most representative element of the estate are the gorgeous gardens with the long alley and the monumental fountain.
INFO
Via Cavalli di Bronzo, 80046 San Giorgio a Cremano NA

Opening hours: every day 7:30 AM- 8:30 PM.
Tags: Art and Culture, Architecture, Views