The Archeological Museum of Phlegraean Fields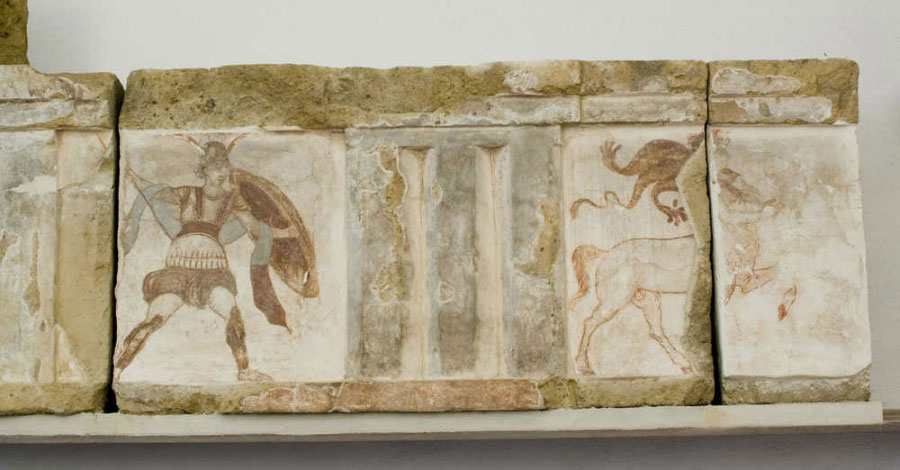 The Archeological Museum of Campi Flegrei (Phlegraean Fields) is situated in the Aragonese Castle in the town of Baia, comune of Bacoli, nearby Naples.
The castle has a privileged position comparing with principal archeological sites in the area of the Phlegraean Fields.
The museum gathers the most significant objects found in the area during archeological excavations. Until now few collections are accessible to public, however it is possible to visit a small ancient shrine named Sacello degli Augustali di Miseno, plaster casts found in the Thermal Baths of Baia (remnants of the Greek copies) and the Ninfeo di Punta Epitaffio in Baia (a monument consecrated to the nymphs).
Specifically, the first room, situated in so-called Torre Tenaglia tower, hosts a reconstruction of the facade of the Sacello di Miseno with the entrance hall (pronaos), beyond which stand out some antique statues, originally placed in an intern cell of the temple.
The Nymphaneum, instead, was commissioned by the Emperor Claudius and nowadays is submerged 7 meters under the sea due to a phenomenon of bradyseismic uplift and subsidence.
The area of Baia is a perfect place for relaxing walks in soothing scenery. The archeological tourist attractions might go hand in hand with a picnic on the open-air or more traditional solution: a dinner at one of the local restaurants.
MUSEO ARCHEOLOGICO DEI CAMPI FLEGREI - OPENING HOURS
Every day from 9:00 ARE to 2:30 PM (the last entrance at 1 PM).
Closed on Mondays; Closed: the 1th of January, the 1th of May, the 25th of December.
Adress and phone number: Via Castello, 39, Bacoli NA, 0039 081 523 3797.
Tags: Archeology, Art and Culture, Nature Parks and hiking, Views