Il Sentiero degli Dei- enchanting path nearby Positano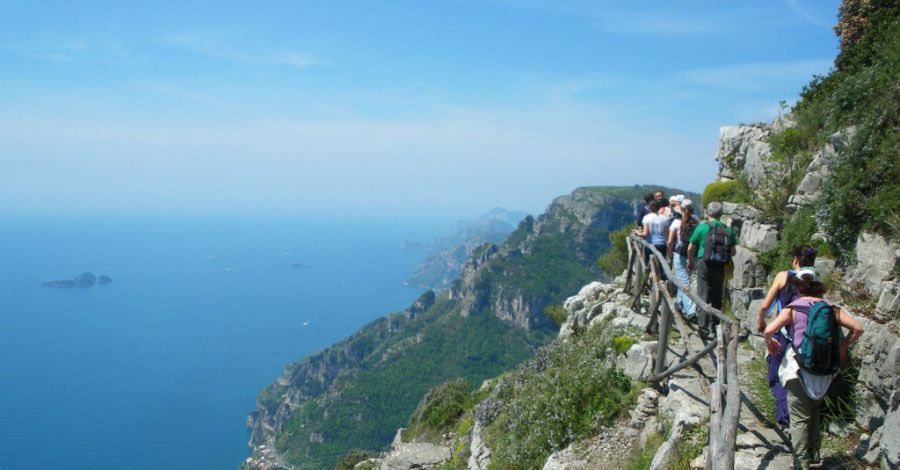 Il Sentiero degli Dei ("the Trail of Gods") extends from Agerola to Nocelle and offers unforgettable emotions for those who love nature. Colors and sensations guaranteed by enchanting panoramas will astonish even the choosiest tourists.
Il Sentiero degli Dei connects a small village of Agerola, situated on the hills over the Amalfi Coast, and Nocelle, the hamlet of Positano located on the slopes of the Monte Pertuso mountain.
The best way to tackle the trail is to start from Agerola, in order to admire spectacular views of Amalfi Coast and Capri island that il Sentiero offers. Beginning from Agerola, moreover, the path is going slightly downhill. A detail worth taking in consideration, especially in summer.
An alternative trail starts in Praiano, near Positano heading toward Amalfi, though in that case you would need to tackle a stairs 580 meters high, before arriving at the Colle Serra passage. The whole trail is marked with white and red signs with inscription 02. Both going uphill and downhill has their vantages: in fact the landscape changes rapidly, from shrublands and pastures where often graze sheep, to a typical Mediterranean forest. Continuous ascents and descents offer amusing natural views, suggestive immersions of the coast in the sea that may bring about dizziness.
Once you arrived at the town of Nocelle, you can choose between coming back downhill by bus or on foot, going downstairs 1500 steps right to Arienzo, from where it's possible to reach the Arienzo beach, after descending another 300 steps. There you can relax and cool off after divine efforts of the trail. Arienzo and Positano are situated only in 1 km distance.
Tags: Nature Parks and hiking, Views